San: I'm a trained psycholinguist but did not have a strong interest in teaching, so I left academia for the software world, where I now do analytical quality assurance. Before Mosaic, I lived with Kai, Emma and Pascal, and two cats in Cambridge; I liked being able to walk to work, the library, and stores, but I disliked not knowing my neighbors well and having a tiny garden.
I became interested in community during college — I went to two fairly small schools, Simon's Rock (not at the same time as Cat) and Hampshire. I found out about cohousing while living in Amherst, MA, as Pioneer Valley Coho was forming.
My biggest hope for cohousing is to have an easier time creating a fulfilling social life for myself and my family members. I've been involved with Mosaic Commons since its pre-beginnings in the fall of 1999. Hobby-wise, I like to garden, knit, cook, and play. I enjoy contra dancing, but rarely make it to dances these days. I love to sing, especially campfire songs and choral pieces, and once upon a time I played piano and guitar. I am hoping that now that we're moved in there will be more time for music in my life. My favorite element is water. PS: San is short for Susanne. Personality: INxx.
---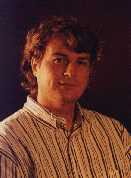 Kai: I'm a professor of linguistics at MIT. I am very much an introvert (INTP). I thrive teaching my field (formal semantics of natural language) and writing about my scientific research. Before Mosaic, I lived with my family — San, Emma, and Pascal — in Cambridge. I was born and raised in Germany. I came to the US for graduate school (UMass Amherst). I loved living in the city, but cohousing makes suburbia palatable. I found out about cohousing from my wife, San.
My biggest hope for cohousing is to build a great place to live. I've been involved since the inception of this group in January 2000. I have spent a lot of time and energy on making our dream a reality. It will happen. In my barely existent spare time, I like running (although I would prefer spending much of that time on playing soccer), doing quite a few more or less geeky things with my computers, watching sports (baseball, basketball, football), cooking, listening to an eclectic mix of music (Elvis Costello, Dusty Springfield, Thelonious Monk, Vinicius Moraes, Beach Boys, 10,000 Maniacs), reading (mystery novels, medieval logic, science in fields not related to my own).
---

Emma has been attending the Sudbury Valley School since the fall of 1999, when she turned 5. Some of her favorite pastimes are doing artwork, playing piano, surfing the web, swimming, and playing soccer. She loves to read and is a huge Harry Potter fan. Animals are important to her, especially dolphins, horses, and guinea pigs. She lives with cats and "they are really sweet". Her biggest hope for cohousing is being able to go out and play with other kids when she wants to. She has been involved with Mosaic Commons since the very first meeting (which was at her house). She would love for other kids her age to join the group.

Pascal loves to be fast, whether running around, riding his scooter or bicycle, or swimming. He also enjoys doing artwork and playing board games and card games. He started Sudbury Valley in the fall of 2003, just before his 5th birthday. Previously, he attended a fabulous cooperative preschool in Cambridge called Totlot. He likes to go to cohousing events to see friends, both young and old.