Liz: I have been part of Mosaic Commons since 2002 and moved in April of 2009. My primary goal in moving in was to eat at meals. Today I'm active on Facilitation, Process, and Community Support teams.
I am pastor of a couple of Churches and do consulting work and have written a book about Food programs called Five Loaves, Two Fish, Twelve Volunteers.
I love common meals, porching, quilting, and walks. With my husband Ken, I love to travel and to go to music events.
---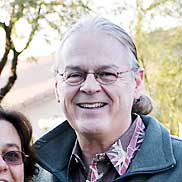 Ken: I grew up between the banks of the Yellowstone River and that long ribbon of metal called the Northern Pacific Railroad. Livingston, Montana is about an hour north on the entrance highway to Yellowstone Park and aside from the neighborhood bully it was a pretty nice place to grow up.
By day I work at Boston College as one of their "Technology Consultants." I provide direct third-level help-desk support for the Lynch School of Education. I enjoy working and teaching in that fun but occasionally traumatized arena that exists between the technological tools (like computers, software and PDAs) and a lot of really smart, highly educated folks who were hired to teach, do research and write rather than for their technical prowess.
At various times in my life I've managed to turn my hobbies into my job. I have a degree in political science and a masters in the ministry (I was a campus minister for a number of years). I paid for graduate school largely by working as the school photographer. After graduating I ended up in a college town that didn't need another minister so I became a biomedical and public relations photographer. Later, after making my way east, I was in Campus Ministry but to make financial ends meet I moonlighted in computer support after learning the technology as a hobby. Now I do the tech support full time and folks occasionally have said I'm almost "pastoral" in the way I help them. Yup.
I generally take a positive attitude in whatever I do. I'm a firm believer in what some management folks have labeled the FISH! Philosophy.
I've never turned drumming into a living and probably won't, but it is a passion. I love to drum and sing, and prefer to make music with others. I belonged to the Walkabout Clearwater Chorus from about 1993 through 1997. It's one of many music groups spawned by Pete Seeger and friends, and I've had the good fortune to have performed with Pete on many occasions. I'm a big fan of the Summer Acoustic Music Week (music camp for adults) put on every summer by WUMB — Boston's Folk Music Radio station.
Since moving to the Boston area I've played with a lot of different folks, but currently spend the majority of my musical passion with a group I helped create called New England Weather. NEW, as we abbreviate it, has a number of spin-off events, and one of my favorites is Mike Delaney's very well run "open mic" at Java Jo's in Jamaica Plain; it's across the street from the Forest Hills T stop, and happens every Thursday from 7 to 10 pm.
I found out about Mosaic Commons from my ex, Christie White, who had been dreaming about it for years. My biggest hope for cohousing is for the community. I'm a gregarious extrovert, so I'm the one in the family who's out meeting and greeting folks. I look forward to getting to know my neighbors better than just learning their names. Cohousing, among other things, enhances the likelihood that I'll know my neighbors, and hopefully at a deeper level than just being acquaintances. I've been with Mosaic Commons since April 2001.
Something useful folks might like to know about me? I'm an ENFP.